Pool Covers, Spa Covers, & Enclosures
Not all covers serve the same purpose. For example, some pool covers close up pools for the winter, while others help retain heat and increase the swim season. There is often some overlap in benefits and functionality, but it is important to find the right spa or pool cover to suit your needs and budget. Ameri-Brand has one of the largest selections of pool covers and enclosures, making it easy to find the right in-ground pool cover, above-ground pool cover, or spa cover at a price you can afford.
Winter Pool Covers and Safety Pool Covers
The Ameri-Cover is one of the premier inground pool covers on the market, serving well as both a safety pool cover and a winter pool cover. As one of the few swimming pool covers in the world that is certified for ASTM F1346-91 pool cover standards, you can rest easy knowing you're protected. Our units are constructed from either safety mesh or solid vinyl, both of which are given extra strength by double webbing nylon straps and tensioned via heavy-duty stainless steel springs that attach to recessed brass anchors in the pool deck. Combine these quality materials with skilled American design and manufacture and you get a well designed, high quality, safety pool cover which is second to none.
In-ground Pool Domes - Residential
The Ameri-Dome is one of the easiest and most affordable ways use your swimming pool year-round! Better than Automatic pool covers, the Ameri-Dome gives instant pool access, increased pool security, and eliminates wind-chill. In addition, these inflatable vinyl bubbles also reduces chemical and pool heating costs and serve as one of the most effective winter pool covers on the market. The vinyl skin of the air dome also acts as "solar cover" by absorbing sunlight and trapping warm air around the pool. And although Ameri-Domes were not initially designed as a safety pool cover, they do create an effective barrier, providing an extra measure of pool safety and protection.
In-ground Pool Domes - Commercial
Commercial Ameri-Domes have many of the same features found in our residential pool domes (directly above). However, they use stronger materials and can cover much larger pools. Commercial pool domes are made from high tensile vinyl, reinforced with fiberglass scrim. Some of our past clients have purchased commercial domes to cover YMCA pools, Municipal Pools, KOA Campground Pools, and Hotel Pools, and large private pools. We also have a NEW Sports Dome, large enough to encompass tennis courts, basketball courts, paintball fields, and other sports venues.
In-ground Fabrico Pool Domes
Perfect for keeping out leaves and bugs from your pool, the Fabrico enclosure also helps to heat your pool's water and saves greatly on water evaporation & pool chemical usage! Fabrico Inground Pool Enclosures are designed to greatly extend your swim season. Swimming all year round is possible depending on where you might live. However, they are not designed to support snow load or withstand extremely heavy winds. The cover can be easily removed for winter storage. Some folks remove the entire framework to allow for the placement of a full winter pool cover during the winter.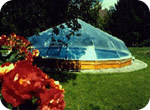 Above Ground Pool Domes
Fabrico Sun Domes consist of a 1" diameter anodized aluminum framework and a screen or vinyl skin which is easily installed by the average homeowner. During the normal swim season, screen domes provide great protection from insects and block leaves and debris from entering the pool. Vinyl covered pool domes also block insects, leaves, and debris, but they have the added benefits of reducing evaporative water loss, lowering pool chemical usage, heating the pool and increasing the traditional swim season! Fabrico domes are not intended for heavy snow load or high winds.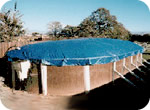 Ameri-Bubble Hover Covers
Traditional above-ground pool covers, such as tarps, mesh pool covers, or pool leaf nets, allow leaves and debris to accumulate on the surface of the cover. This mess can be difficult to clean and often ends up in the pool as you attempt to remove the cover. In contrast, the unique design of the Ameri-Bubble pool cover allows it to "hover" on the surface of the water, creating a dome-like shape that sheds rain water, leaves, dirt, and other debris. Made with a strong polyester inter-layer with U.V. treated P.V.C. skin, the Ameri- Bubble will withstand just about any winter weather.
Fabrico Spa Domes
The Fabrico Spa enclosure allows you to maximize your time in your spa or hot tub. This small dome encloses the spa, providing an sheltered environment from wind, rain, and even annoying insects. The heavy gauge 12 mil crystal clear cover is supported by a series of aluminum tubes. Each vinyl cover is electronically heat sealed to provide a tailored fit for its aluminum frame. The cover can also be easily removed for summer storage if need be, allowing you to get the most time out of your spa.
Ameri-Brand Spa Enclosures
Covering a spa with an Ameri-Brand Spa Enclosure creates a shealtered environment in which to enjoy your spa year-round. The vinyl skin is supported by a sturdy framework of 1" square aluminum tubing. This type of spa enclosure blocks wind, rain, and annoying insects, and also provides extra security with its locking zipper door. The cover can also be easily removed for summer storage if need be, allowing you to get the most time out of your spa.