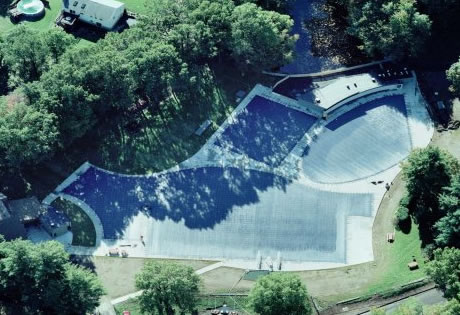 Commerical pool covers are specially designed for pools over 2100 feet². These larger covers use the same high-quality materials, anchors, and accessories as our standard pool covers, but there are a few differences. Commercial covers are only available in safety mesh because vinyl covers this size can collect huge amounts of water, causing stress to the material and prematurely failure. They also use a tighter 3'x3' straps spacing and a larger deck overlap of 18" or 24", depending on the shape and size of the pool cover. Finally, commercial covers do not include a storage bag, seen on the "what you get" page, due to their large size.
In addition to their heavy-duty American-made construction, Ameri-Brand commercial pool covers are independently certified to meet or exceed ASTM Standards required by many states, counties, and municipalities. This is especially important for commercial pools requiring official inspeciton. Failure to meet code because your new cover does not have an ASTM label attached or proper certification paperwork can be a very costly mistake (IT HAS HAPPENED BEFORE). In addition, some insurance companies offer a discount for pools that are properly covered with ASTM rated covers.
For pictures, check out our commercial pool cover photo album. All Commercial Ameri-Covers also come with an industry-leading 30 year warranty. Obtain a quote online with our innovative commercial pool cover calculator or contact us day or night for more information. To speak with an experienced Ameri-Cover specialist, call us toll free at 1-800-982-6966 (M-F 8-5 PST)

Commercial Pool Cover Alternative... Swim Year-Round
Ameri-Brand also offers Commercial Pool Domes as a great alternative to the traditional pool cover. These larger air-domes can encompass areas up to 7000 square feet, creating a climate controlled environment for year round swimming. Used by YMCA pools, Municipal Pools, KOA Campground Pools, Hotel Pools, and large private pools around the country.