Sun Domes for In-Ground Pools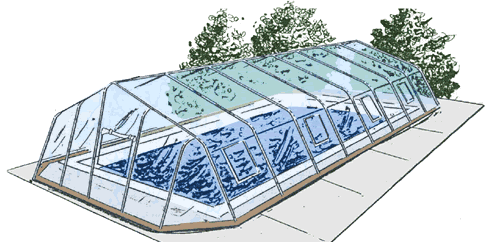 Also see Inflatable Domes for Inground Pools - No Frame Required!
We now offer Genuine "Fabrico" Inground Pool Enclosures for many sizes of inground Pools. These units are well known throughout the pool industry as an Excellent way to Cover your pool and Greatly Extend your Swimming Season. Swimming all year round is possible depending on where you might live. Perfect for keeping out leaves and bugs from your pool, the Fabrico enclosure also helps to heat your pool water and saves greatly on water evaporation & pool chemical usage!
One of the Best things about a Fabrico Sundome is its simple yet effective design. All parts needed to install your inground pool enclosure are included with each Fabrico kit, with the exception of the easy to make wooden base structure. A complete installation manual is included with each Fabrico Inground Sundome. Installation time varies on the different sizes but even the largest Sundomes can normally be installed in a single weekend.
The 1" diameter anodized aluminum framework is easily installed by the average homeowner. Held in place by stainless steel screws, the galvanized steel braces which support the tubing are mounted at regular intervals around the perimeter of the wooden base which is anchored to your deck surface. The base can be installed on nearly any type of surface.
The 12 mil. vinyl cover is spread over the assembled framework and is secured in place with a special fastening system that provides for a consistant seal around the base to help keep both you & your pool protected from the elements.
Each unit has 1 zippered door opening and anywhere from 4 to 16 zippered & screened windows for ventilation. The larger units have more windows.
Although a Fabrico Sundome will allow you to start swimming much earlier in the season and extend the latter part of it, they are not designed to support snow load or withstand extremely heavy winds. The cover can be easily removed for winter storage. Some folks remove the entire framework to allow for the placement of a full winter pool cover during the colder months.