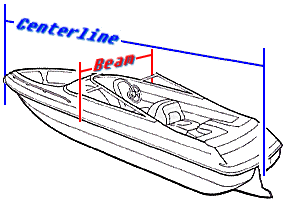 Measuring Tips: When fitting a cover to your boat, use a non-stretching tape to be sure you have accurate dimensions. A steel tape measure works best. If your boat's on a trailer, simply lay the tape on the ground directly under the boat. Then "eyeball" the measurement or plumb straight down from the boat.
Finding the Centerline Length: Measure from the tip of the bow to the center on the stern. Add the length of any extensions such as bow pulpits or transom brackets to the centerline dimension.
Finding the Beam Width: Measure the widest point of your boat, including the rub-rail. An easy way to visualize how a proper measurement should be done is to imagine your boat is placed sideways in a vise. If you were to clamp the vise down on the boat, the measurement(s) would be taken at the points where the jaws of the vise would first come in contact with the sides boat.
Note: Semi-Custom Fit Covers can be adjusted to fit the beam and centerline plus or minus 4 inches. This feature allows you a bit of "forgiveness" if your boat has any unusual (non-factory) items attached.