Revive Your Old Tank or Cistern
Now, any tank that is structurally sound can hold water again, regardless of leaks or internal corrosion/buildup which would otherwise render it useless. By coverting your old tank or cistern to a potable vinyl liner system you can greatly extend the life of your old tank or cistern. This saves you time and money associated with old tank disposal, buying a new tank, and then installing it. With our special tank liner fittings, we can even accommodate inlets, oulets, and pipes which protrude into the tank. Want more information on the conversion process? Try our installation page which describes preparing older tanks as well as installation of the vinyl liner.
Using Swimming Pools as Water Tanks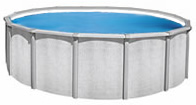 You can even convert new or used above-ground swimming pools into water storage using potable tank liners. As always, we recommend using white potable vinyl liners instead of above-ground pool liners, since standard blue liners are heavily laden with anti-baterial and anti-fungicidal agents. These "time release" chemicals are manufactured directly into the vinyl to help keep swimming pools free from bacterial and algae growth, but they can become a health hazard in irrigation and drinking water applications.
Professional and DIY Approved
Our tank liners are equally suited for professional installation or casual do-it-yourself projects. Our website is very detail oriented and designed to provide all the information you may need about converting tanks, cisterns, and pools into water storage using tank liners. You can find everything from measuring instructions to tank liner installation. You can do everything online from the comfort of your home or office, but our knowledgable staff is also here to support you at any step along the way.